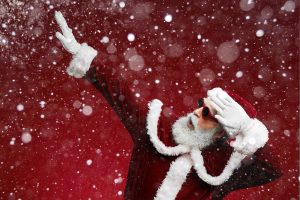 With November rounding out to a close, it's time to look forward to winter festivities and holiday traditions. However, with a pandemic currently in place, getting out to your favorite winter spot for some snowy activity may not be in your family plans.
We know that no snow for the holidays can put a damper on your holiday fun, and that's why Mr. Cool Snow Parties is dedicated to bringing the snow flurries to your doorstep for a great time! 
Here's how we make the magic happen and keep your family safe in the process.
What is a Texas Snow Party?
Snow parties from Mr. Cool are the perfect solution for a Texas winter that doesn't bring natural snow. Whether a client is classing up the holidays or wanting to have a mass snowball fight in the front yard, we are here to provide the snow that you need. 
With us, there are no weather conditions necessary to have a white Christmas! Through our sister company, Emergency Ice, we put natural ice through a snow machine that provides real snow for your order. 
With a snow party, you're guaranteed instant snow that lasts for your gathering and naturally melts away over time. 
How is a Snow Party Covid Safe?
Our snow party delivery is easily contact free. From your initial snow set up to the delivery of our services, our team puts your family's safety first and promises that the only physical hands that touch your snow will be from your household.
Trust Mr. Cool Snow Parties to deliver a fun winter experience that doesn't put your family at risk during the setup process.
Snow Parties Make Self-Isolation "Cool"
Just because it's a snow party doesn't mean that you still can't play it safe. If you're self-isolating your family during the holidays, celebrations are definitely going to be different this year. Make sure that your family still gets some winter fun with a private snow party for your household.
Despite changes in holiday plans, Mr. Cool can help you save the season with our real snow experience and optional slide rentals for a truly exhilarating snow party. Toss some snowballs around and go sledding in the yard with your immediate family and make this holiday one to remember for all of the right reasons.
Create a Winter Wonderland in DFW With Mr. Cool Snow Parties
If you want to bring something special home for the holidays, make it a snow party that the whole family can enjoy. Mr. Cool Snow Parties proudly offers our services through the Dallas-Fort Worth metroplex, and is ready to schedule a party with you! Contact us today to learn more about our services.