During the winter when it's warm one day and cold the next, it can be difficult to plan an event, party, or group outing. Yes, there are many activities that can be enjoyed indoors like bowling, arcade gaming, roller skating, and museums; but just because it is winter time, that doesn't mean that we have to be cooped inside all season long.
Instead of searching for the perfect indoor facility for your party or event, plan for it to be outside and be ready to enjoy whatever Mother Nature brings. No matter if the weather ends up being cold, hot, or right in between, Mr. Cool Snow Parties has the best Waco party idea around.
What type of party can you have outside during the winter?
A snow party is the perfect type of party for the outdoors during the winter time or any time of the year. There is no better way to celebrate winter than with snow. Since Waco doesn't see those beautiful snowflakes falling from the sky often enough, it's up to you to bring the snow to Waco.
How do you bring snow to Waco for a party?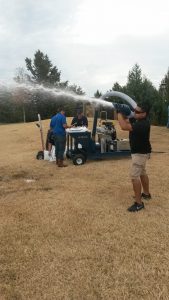 Just as they do for the Winter Olympics and ski resorts, Mr. Cool Snow Parties can produce artificial snow for your party or event in Waco. The process is quick and simple. Based off the amount of snow your party needs, our crew will bring a mobile snow machine and bags of ice. They will dump the ice bags into the machine that grinds up the ice into tiny little pieces of powdery white snow. The snow is spread out across the area and will look just like it fell from sky during a snow storm.
What party themes can I have with a snow party?
Since we can produce snow any time of the year, your party ideas and theme options are endless. Many of our customers throw snow parties for kids' birthdays, school parties, fundraisers, community events, church events, holiday festivities, and even corporate parties and events.
Popular party ideas and themes include:
Winter Wonderland
Traditional Birthday Party
Disney Snow White Party
Christmas/Holiday Party
Sledding Party
Ice Skating
The party ideas and themes are truly endless. Take any of your kid's favorite movies, shows, or games and create a unique theme from there. For other parties you can create your own theme based off the core focus of the event, tie in the snow party, and take it from there.
How do I get a snow party in Waco set up?
Setting up and scheduling a snow party for your event is simple – you can get started right here, right now. It starts with our snow party service agreement, which is available to view and download right from our site. Simply fill out the form with the details of your Waco party or event including the date, location, and other related information.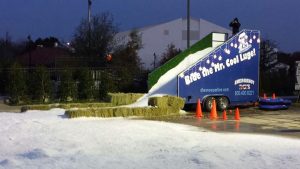 Remember: The sooner you get started, the sooner you'll be able to reserve the date and time you need for your big bash.
If you have any questions about filling out the form or to verify your date and time is available, contact us at directly 254.799.4111 or complete our contact form.
Don't forget to rent the Mr. Cool Luge. It's our 10 foot snow slide that can add even more fun and excitement to your event for kids and adults of all ages.