We might've spoken too soon when we said that Dallas wasn't going to see much in the way of cold weather. The wishes of teachers and students all across the metroplex have been answered. Snow! Well, not snow exactly. Dallas and surrounding counties have been hit with a storm of wintry mix, complete with plummeting temperatures, freezing rain and sleet.
According to Weather.com meteorologist Chris Dolce, "Winter Storm Quantum will deliver a widespread swath of snow and ice from the Rockies into the Deep South through Monday." He goes on to warn that travel will be hazardous along parts of I-40 and I-20, and we've already seen evidence of these hazards.
Dallas Fort Worth Snow Day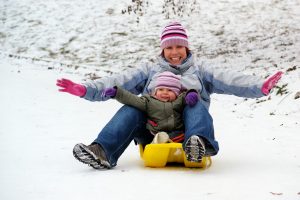 As the winter storm glazes over roadways in the Dallas/Fort Worth metroplex, many already have been in major pile-ups along the highway, and at least one Texas driver is now dead after a major collision with an 18-wheeler. Near the New Mexico/Texas state line along I-40, more than 25 vehicles collided after slipping on sleet. The accident prompted a shutdown of eastbound traffic on the highway.
DFW Airport & Dallas Love Field Cancel Flights
At major airports, people are experiencing even more of an inconvenience, as Dallas-Fort Worth International Airport has canceled more than 500 flights today. DFW International and Dallas Love Field are the top two airports in the world affected by weather today. As of nine o'clock this morning, Dallas airports (including Southwest Airlines, DFW International, and Dallas Love Field) have cancelled more than 1,100 flights in and out of the metroplex.
TXDOT Helps Keep Our Roads Safe
To help make the roads a bit safer, the Texas Department of Transportation has used brine, sand and salt to pretreat the roads. Brine is a mixture of salt and water and it can be really useful at keeping the roads from glazing over. Generally used in advance of an ice-storm to prevent snow and ice build-up, brine lowers the freezing point of water from a typical 32 degrees Fahrenheit to as low as 18 degrees Fahrenheit, making it less likely for the water to freeze over into sleet.
In preparation of winter storm Quantum, the district of Dallas has set aside over 300 crew members and 180 pieces of equipment to use to keep the streets as clear as possible, and have hands on deck should emergencies arise. De-icing teams checked about 300 bridges and crossings in Dallas after the city deployed 35 trucks and 100 crew members to work around the clock. Since four o'clock in the afternoon on Sunday, crew members have been de-icing bridges and salting roads in an effort to prepare drivers for the slick conditions ahead.
But you don't have to prepare nearly as much for spending this snow day having fun in the ice and snow with your kids. Did winter storm Quantum not hit hard enough? Want the experience of building a snowman or making snow angels with your kids? Just call DFW Snow Parties and before the day is done, we'll have enough snow in your front yard to help you recreate a winter wonderland for your kids.